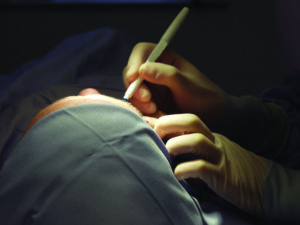 Mohs Surgery
Mohs surgery is an advanced treatment procedure for skin cancer that offers the highest cure rate (up to 99%, even if the skin cancer has been previously treated). This procedure is state-of-the-art treatment in which the highly-trained physician serves as surgeon, pathologist and reconstructive surgeon. It relies on the accuracy of a microscope to trace and ensure removal of skin cancer down to its roots. This technique allows dermatologists, trained in Mohs surgery, to see beyond the visible disease, and to precisely identify and remove the entire tumor, leaving healthy tissue unharmed for optimal cosmetic outcomes. This procedure is most often used in treating two of the most common forms of skin cancer: basal cell carcinoma and squamous cell carcinoma.The cure rate for Mohs surgery is the highest of all treatments for skin cancer–up to 99 % even if other forms of treatment have failed. This procedure, the most exact and precise method of tumor removal, minimizes the chance of cancer regrowth and lessens the potential for scarring and disfigurement.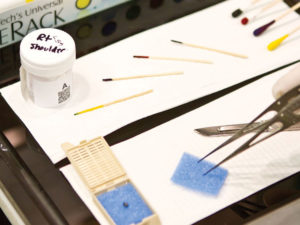 Gold Standard ACMS Fellowship Trained Mohs Surgeons
The highly-trained surgeons that perform Mohs surgery at Ada West Dermatology are specialists both in dermatology and pathology. With their extensive knowledge of the skin and unique pathological skills, they are able to remove only diseased tissue, preserving healthy tissue and minimizing the cosmetic impact of the surgery. Dr. Winchester (Mayo Clinic) and Dr. Thorpe (Zitelli Clinic) are fellowship trained in programs recognized and approved by the American College of Mohs Surgery. The American College of Mohs Surgery (ACMS) was founded by Dr. Frederic Mohs himself, who developed the ground-breaking Mohs sugery procedure.
The highly-competitive ACMS-approved fellowship training programs are the de facto gold standard for Mohs surgeon training and are prestigious and significantly more rigorous than other Mohs certifications such as those offered by the ASMS. Fellows-in-training undergo months of extensive, hands-on direction from highly qualified instructors. By choosing an ACMS-fellowship trained Mohs surgeon you can be assured that you will receive the highest standard of quality and competency, as well as an optimal outcome. The Mohs College currently recognizes more than 50 training centers where qualified, accepted applicants receive comprehensive training in Mohs surgery. The minimum training period is one year during which the dermatologist acquires extensive experience in all aspects of Mohs surgery, pathology and training in reconstructive surgery.
Currently there are 5 highly-trained ACMS Mohs surgeons in the Treasure Valley, and two are located with the Ada West Dermatology group. Before you have a Mohs procedure done, ask your surgeon to see if they are trained and certified in a rigorous ACMS fellowship with the highest standards of quality and competency. You can also verify their membership by clicking on the following link:

To learn more about Mohs surgery: