Dermatologic Medical Care
At Ada West Dermatology, our highly-trained staff are committed to providing comprehensive and complete skin care for adult and pediatric patients. By no means comprehensive, here is a partial list of medical skin conditions that we treat: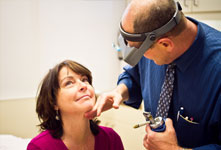 Acne
Actinic keratoses
Basal cell carcinoma
Cysts
Dermatitis/eczema
Dry skin
Eczema
Fungal infections
Hair loss (alopecia)
Hyperhydrosis
Infections
Keloids
Lupus
Melanoma
Moles
Psoriasis
Rosacea
Seborrheic keratosis
Shingles
Squamous cell carconima
T-cell lymphoma
Urticaria (hives)
Vitiligo
Warts
Medical Treatments
With the collective knowledge base of 21 experienced clinicians, we are able to expertly diagnose your difficult skin conditions. We have Idaho's first and only pediatric dermatologist for difficult issues unique to younger patients. Our office receives dozens of patient referrals daily from regional primary care physicians who entrust us to best diagnose and manage their patient's problematic skin issues.
Surgical Treatments
Ada West Dermatology's competent dermatology clinicians take the utmost care to excise your skin lesions with optimal cosmetic results in mind. Should the need arise to take care of advanced or recurrent skin cancers, Ada Dermatology also has 2 skilled ACMS-fellowship trained Mohs surgeons to expertly remove and repair difficult tumors.
Dermatopathology Lab
For problematic skin problems, our office has a modern in-house lab that is staffed by 3 skilled dual board-certified dermatopathologists to help with efficient, timely diagnoses. In addition to in-house patients, our accomplished CAP-certified dermatopathology lab is trusted by over 25 medical offices across the state of Idaho and Oregon to process skin biopsy samples. Click this link to learn more about our lab: www.adawestdermatopathology.com