Our discounts for each brand vary, here are the specific discounts, the way to get them, and what we like about them.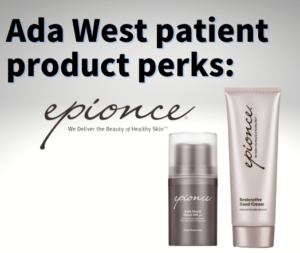 Ada West Discount: Free Shipping
How to use:You must use this link
About Epionce:  This local brand and remains a privately-held company. All products are formulated and manufactured in-house at its headquarters in Boise, Idaho. This ensures the quality and freshness of the product, which is made in small batches for maximum freshness.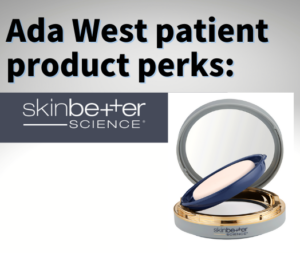 Ada West Discount: None, however products are medical grade and can only be purchased when a provider is chosen.
How to use: Choose Ada West Dermatology as your provider at checkout.
About Skin Better Science: Their products can be purchased online when you use our links and choose Ada West Dermatology for your provider. See Jennifer Cook, FNP, and Teresa Graklanoff, PA-C for their favorite Skin Better Science products.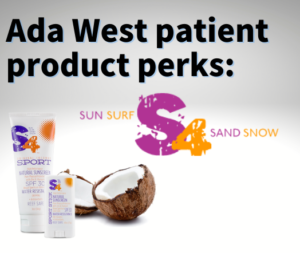 Ada West Discount:  15% off
How to use: Use this code "Ada15" for 15% discount.
About S4 Suncare:  This Boise company develops products that protect, hydrate, correct and maintain your skin's optimal health. S4 takes an anti-aging approach to sun and skin care. Every product we develop is rich in antioxidants and natural actives adding an extra layer of protection against free radical damage.  S4 is mineral based, reef safe, non-chemical and our staff would say smells the best.