Idaho's largest and most experienced dermatology group, Ada West Dermatology has 3 modern outpatient clinics in south Meridian, northwest Meridian, and one in southeast Boise to better serve you.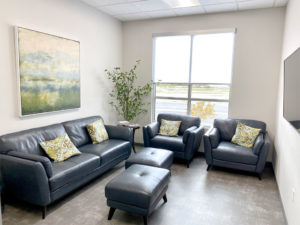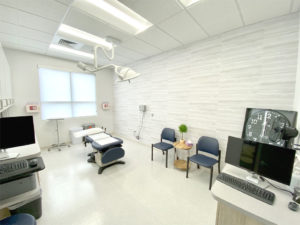 To ensure patient comfort, our clinics offer the following amenities:
Well-lit and very spacious examination rooms (our exam rooms are the largest in the region and fully equipped for surgeries)
Bright and modern Mohs micrographic surgery suites with the latest equipment
3 laser treatment rooms
3 phototherapy light treatment rooms (UVA and narrow-band UVB)
Separate surgical intra-operative waiting rooms to relax while waiting for results
Our waiting rooms are a comfortable place to relax before your appointment. If you prefer to read, we have many magazines to suit your interests. We also offer free WiFi to keep connected to entertainment or productivity options on the web.
Our 21 top-notch clinicians see patients Monday through Friday for outpatient clinic and surgical visits. Our 3 conveniently located clinics have easy access for Meridian, Boise, Eagle, Nampa, Kuna, Caldwell, Star and Mountain Home residents. Please call us at (208) 884-3376 to make an appointment that best suits your schedule.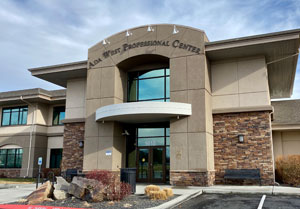 Ada West Professional Center (South Meridian)
Located just southwest of the Eagle Road and I-84 exit, the 27,000 square foot building is located by the entrance of Mountain View High School, and near the Majestic movie theater and High Desert Harley Davidson Motorcycles. This south Meridian clinic is closest to Kuna, Nampa, and Boise, ID patients. This location also houses our premier CAP-certified dermatopathology lab and one of our ACMS-fellowship trained Mohs surgeons (Dr. Dan Winchester).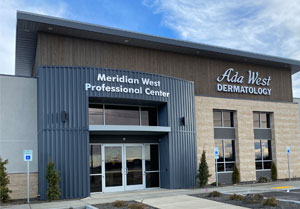 Meridian West Professional Center (Northwest Meridian)
Located on the SE corner of N Ten Mile Road and McMillan Rd in NW Meridian, this 18,000 square foot building was built in 2019 and is shared with Eagle Vision One. Nearby businesses include the N Ten Mile Walmart, Meridian Costco, and Gino's Italian Restaurant. This NW Meridian location is convenient for Eagle, Nampa, Caldwell, Star, Middleton, and Emmett, ID patients.
In addition to stellar clinicians, our second ACMS-fellowship trained Mohs surgeon (Dr. Ryan Thorpe) is based here to treat all of your dermatology needs.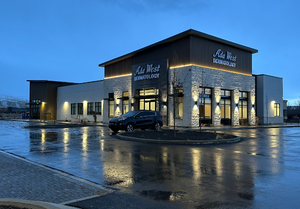 Barber Station (Southeast Boise)
Located by Bown Crossing and Harris Ranch, on the east side of the Boise River in SE Boise, this 8,433 square foot building opened December 2022. Nearby landmarks and businesses include Bown Crossing, Horizon Credit Union, Saltzer Health East Boise Urgent Care, Boise Dance Alliance, and Marianne Williams Park. This Southeast Boise location is convenient for Boise, Mountain Home, Twin Falls and Idaho City patients.